"The objective of cleaning is not just to clean, but to feel happiness living within that environment." ~ Marie Kondo
"The objective of cleaning is not just to clean, but to feel happiness living within that environment."
~ Marie Kondo
Are you ready to Spark Joy® in your home, office, and life?
Join me for an inspiring, educational, and entertaining program that will teach you the guiding principles needed to tidy once and for all. We will dive into the heart of the KonMari Method® and learn what it means to truly live a life that Sparks Joy®!
I look forward to seeing you soon!

What libraries are saying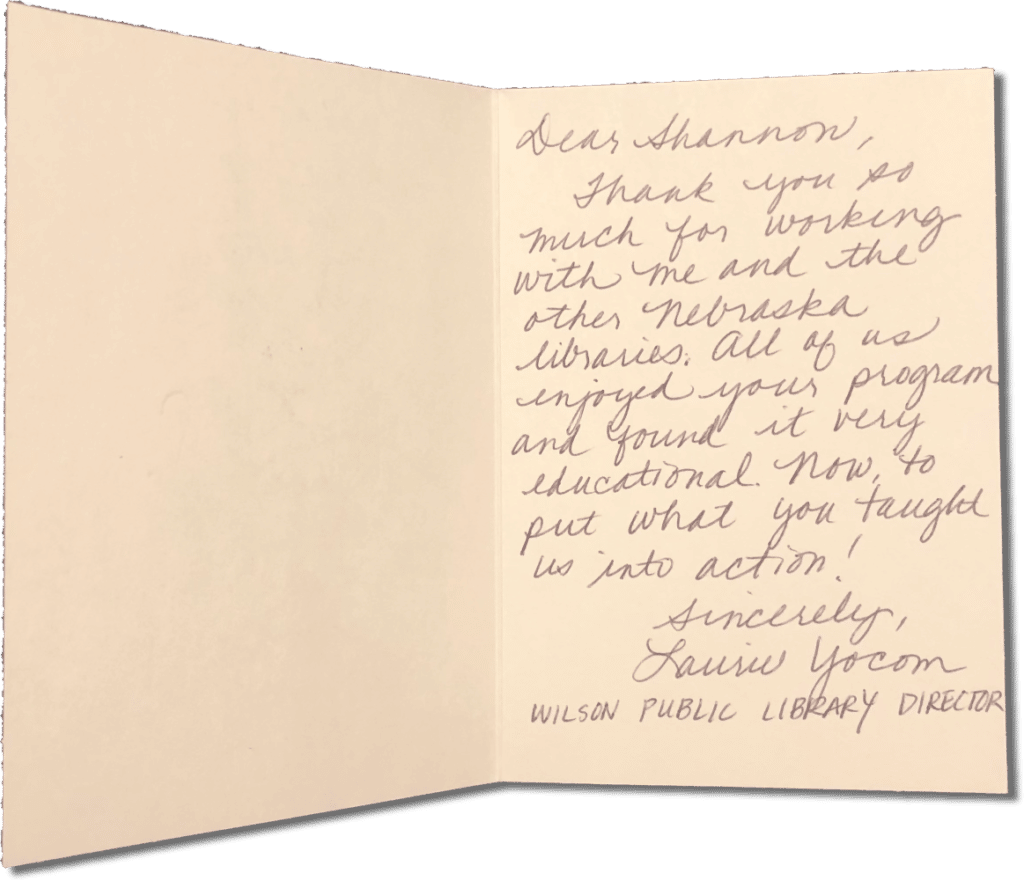 The Hall Memorial Library and four other New Hampshire public libraries recently hosted Shannon's Spark Joy program. Shannon and her team are a pleasure to work with. They manage the details from start to finish, making the whole process simple and straight forward. Shannon encourages libraries to collaborate in order to cut down on the cost of the program. Our patrons LOVED the presentation and have requested that we host Shannon again in the future!
Shannon gave her presentation for our library system, and she was amazing! She's easy to communicate with, inspirational, and quite literally- a "joy" to work with. Her personality lends itself well to helping people learn to cast off the excuses and procrastination and finally move forward with decluttering their lives and spaces. When we had an emergency situation with weather, she personally called to see if we needed to postpone the program. You don't often find that personal and caring touch these days. It all worked out, and our patrons loved her presentation. We cannot wait to have her back to help more people spark joy! Thank you, Shannon. You are wonderful!
Truly a joy to have offered Shannon's presentation at the 5 branches of my library system. There were more than a few staff members who watched too! Professional and engaging, Shannon clearly is prepared to present and her passion for organizing and helping others come shining through. Don't hesitate to hire her for an event or to help you learn to organize your world.
Shannon provided an amazing on-demand Spark Joy® program for Portage District Library in Portage, Michigan! As the programming coordinator, I received many comments from virtual attendees about how her presentation helped them "get" the KonMari® method in ways that they had not while reading the books. In particular, they appreciated how Shannon provided them with practical and throughtful ways to tackle sentimental items. This was our highest attended virtual event in the last few months! Ask Shannon to consult, create an on-demand webinar, or present for your group. You won't regret it!
We had a great virtual program with Shannon! We had a group watching the presentation from the library as well as a good showing online, and everyone enjoyed the program and took something away from the experience.
Shannon Huneycutt helped our patrons at the Ridgewood Public Library (NJ) to start off the new year with an outstanding program this week. Shannon's excellent 60-minute video (made available to patrons for 48 hours) provided clear, attractive and achieveable strategies. The Live Virtual Q&A with Shannon was a huge benefit; she really took time to speak with everyone on the call. I was most struck by the fact that Shannon stressed the importance that by calmly and methodically organizing all aspects of your life, you will experience less anxiety and more focus. And she discussed the reality of our emotional connections to things...especially those handed down from family members. Shannon's enthusiasm for this mindset and strategies is contagious. Whether you are planning a program for your company or desiring more peace in your life, contact Shannon today!
Shannon did her Spark Joy presentation with our library (and several of our partner libraries) and it was a clutter-smashing success! It is clear that Shannon is passionate about this topic, and loves helping others. I heard positive feedback from our attendees, such as, "I am finally inspired to take everything out of my closet!" The presentation was clear, concise, and included a wealth of information for such a relatively short (90-minute) program.
Two Ways to Spark Joy® For Your Patrons
48 Hours of Joy – A custom webpage designed for your library that includes: (1) hour recorded program, checklist download, sweepstakes entree form, multiple folding videos, and answers to frequently asked questions. Available for (48) hours allowing your Patrons to enjoy at their convenience.
Or
1.5 Hours of Live – The magic of an online presentation which includes (1) hour presentation, spinning of sweepstakes wheel, and (30) min Q&A with Patrons.
---
Sparking Joy® Beyond The Program
Excellent communication – All communication is prompt and clear from scheduling to providing marketing materials and invoicing.
Easy – From the time patrons log in until they log off, the Spark Joy CLT production team will handle the broadcast.


Netflix on Zoom – Produced in a studio with professional lighting, sound, hardware, & software it feels like Netflix on Zoom. Your Patrons will be entertained & engaged the entire time during this professional broadcast. 
Free Giveaway – Patrons can enter to win a Virtual Jumpstart Journey. The winner will be emailed once the program is complete.


Tidying Checklist – A downloadable tidying checklist to support Patrons in starting their tidying journey.
Marketing Material – A customized flyer is provided that's designed for print and email.
Join 400+ Libraries in Sparking Joy®
I'm aware of limited budgets, so several libraries partnered with other libraries in their area to split the cost and have the program together.
If you are interested in partnering please fill out the form below and I will share which libraries in your state are interested in partnering.
Wednesday | May 3rd @ 6:30 PM EST
Hamilton-Wenham Public Library
Thursday | May 11th @ 7:00 PM EST
Saturday | May 20th @ 10:30 AM CST
North Canton Public Library
Wednesday | June 28th @ 7:30 PM EST
Monday | July 10th @ 7:00 PM EST
Saturday | August 5th @ 11:00 AM PST
Charles County Public Library (Repeat)
Tuesday | December 7th @ 6:00 PM EST
"Shannon was amazing to hear and watch! Her enthusiasm and encouragement to make good organizational changes in our lives is contagious and well worth watching. Would love to participate in another session with her!"
"I finally got to attend a Spark Joy Charlotte seminar. It was really informative, and I loved watching Shannon talk about her work because she knows what she's talking about!! Everything was just laid out perfectly to help you understand each step of your experience. Definitely took away many good ideas from attending. Thanks again 😊"
"We recommend Shannon's program to anyone looking for sparking joy and getting organized. She is a great presenter!"
"I really enjoyed the SparkJoy Charlotte webinar! I've wanted to know more about the KonMari method for awhile now and Shannon did a wonderful job explaining and showing what needs to be done. She kept it fun and informative! I'm really glad I took the time to attend! Now I have to start my first stage of 'tidying up'!! 😄"
"Ok, so to start, I wasn't sure about this as I have a very cluttered house and thought - no way can I dig out from under this - so why try??!! However, after listening to Shannon's workshop, I'm very motivated to begin! She made it very approachable and not overwhelming at all. Shannon is very down to earth and didn't come across as judgmental to those who have a clutter issue. I highly recommend getting in on her hour-long webinar and get your changes started!!!"
"Shannon is spot on when identifying key areas that impact our ability to stay on-track and be organized. Her webinar is quite informative and entertaining....keeps your attention! I would give recommendation for anyone looking for help to get organized, or needs help getting a plan together to try this out and reach out to Shannon!"
"Shannon is amazing and so knowledgeable. I thought I was really organized but her tips have helped me become more able to manage the clutter. I highly recommend her."
"Shannon's wonderful home organization business makes a new milestone. Not only had she done a fantastic service in homes pre-Covid, but now she is offering a brief online session that packs a ton into one hour. This session can give families and businesses an introduction into the world of organization and finding some real happiness and "joy" in their working and living spaces. I highly recommend spending an hour in Shannon's online session. It is not only informative but also quite enjoyable."
"As I watched Shannon present her webinar on the KonMari method of organizing, I saw her true passion for what she does in helping people to work through their clutter. We all have areas in our home that need to be de-cluttered and organized. My pain points that she touched on were the garage and papers. I loved the before and after graphics she used of clients being nervous about de-cluttering and then excited afterwards. They made me laugh, which is always a good thing! You did an amazing job!"