Learn To Live A Life That Sparks Joy®
Your environment affects everything in your life. Learn how to tidy your space and transform your life forever.
Your environment affects everything in your life. Learn how to tidy your space and transform your life forever.
You walk in your front door at the end of a long day and what's waiting for you – CLUTTER! Immediately, your body feels tense and an overwhelming feeling sinks in as you stare at the mess in your home.
You are frustrated with the constant cycle of decluttering and organizing, only to return to clutter again. Anger and resentment start to build up towards your family, putting a strain on your relationships.
Every day you feel anxious and stressed as the clutter continues to pile up around your home. With each passing moment, you become more paralyzed and have no idea where to even begin. 
You are tired, stuck, and unhappy. 
But, guess what? Trust me when I say, You do not have to live one more day feeling defeated.
I'm here to help you change your life! 
Walk with me through the necessary steps to get rid of clutter for good so you can truly live a life that Sparks Joy®. 
It's time to discover what makes you happy and let go of the unnecessary clutter taking up space in your home and mind.
Commit to tidying up once and for all so you can finally create the life you want!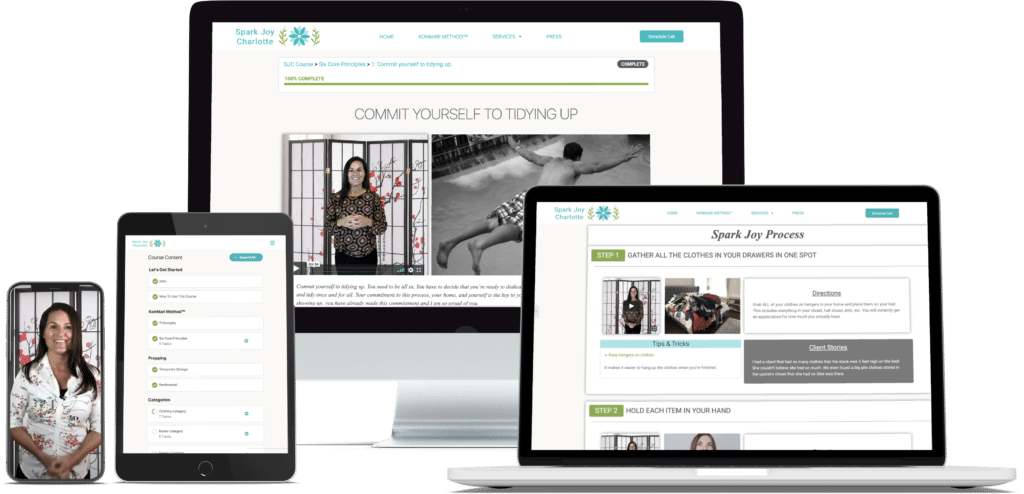 Gain an understanding of your values and how you want to live your life as you evaluate the belongings in your home and discover what truly brings you joy. By breaking it down into actionable steps, you can tidy at your own pace, making small transformations along the way. Each small action you take will lead to the big Life-Changing-Transformation you desire in the end. 
Take time to envision your ideal lifestyle and set goals to achieve the life changing results you desire.
To ensure success, there will be reflection points, throughout your tidying journey.
As you move through each category, you'll be prompted to take before/after photos to capture how far you've come – and celebrate small victories.
As your Virtual KonMari® Guide, I will guide you every step of the way to teach the necessary skills and knowledge needed to transform your home into an organized, clutter-free space. 
You will begin to hone your sensitivity to what brings you joy, allowing you to let go of items taking up space in your home and mind. 
As you reconnect with your inner self and learn what is important to you, a lasting change in behavior will set you on a positive track to maintain a tidy home. 
Each small step you take will get you one step closer to creating the life you want!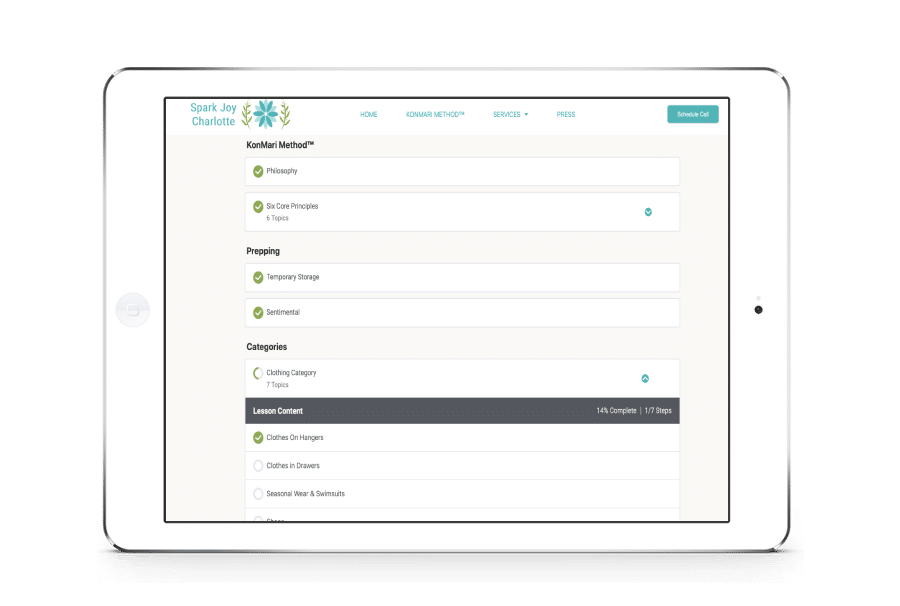 Once you've decided to commit to tidying up once and for all, it's time to get started! You will begin your journey with an understanding of how to work with your Virtual Guide. This experience is designed to help you succeed by breaking down the tidying process into manageable chunks. Along the way, you will have reflection points to keep you motivated and moving towards your ideal vision.
You will become familiar with the philosophy behind the KonMari Method® and what it means to truly live a life that Sparks Joy®. Learn the 6 guiding principles needed to get rid of clutter for good and maintain an organized space for life. It's important to set goals and have a clear vision of what you want your home to look and feel like. This vision will be the driving force as you move towards your goals to creating the home and life of your dreams.
Getting yourself prepared for the journey ahead is just as important as the journey itself. In this section, the focus is on temporary storage and what to do when you hit a road block with sentimental items. Being both physically and mentally ready will set you up for success from the very start. 
Your goals are set, you've envisioned your ideal lifestyle, and you are prepared! It's time to take action by tackling each of the five categories in the Konmari Method®, in order. 
Follow the step-by-step lessons as I guide you through each of the five categories. They will be broken down into smaller topics, thus eliminating the overwhelming feeling of having to declutter an entire room. 
Become an expert in the Spark Joy® Process as you evaluate your belongings to determine if they Spark Joy® or no longer serve a purpose. 
As you move along, your vision will begin unfolding before your eyes and it will become more clear that you are indeed changing your life!
Congratulations! 
Do you feel it? That is the sweet sensation of success and happiness that fills the air when you reach your goals.
You have just experienced the life-changing magic that comes with tidying up and I am so proud of you. 
The vision you had pictured at the beginning has finally come to life and you now have the necessary skills to maintain a tidy, clutter-free space forever!
If that doesn't Spark Joy®, then I don't know what does!
Shannon Huneycutt is a certified KonMari® Consultant, Speaker, and Founder of Spark Joy® Charlotte. Having been trained by Marie Kondo, she specializes in decluttering and organizing homes using the KonMari Method.® Shannon has tidied homes all over the Charlotte region, allowing her to hold the title, Certified KonMari® Consultant. As a professional speaker, she has been invited to speak for local, regional, and national organizations to share the message of how to live a life that Sparks Joy®!
Prior to her organizing business, she served as a teacher for 9 years and earned a Masters Degree in reading and writing. The skills she learned during her teaching career translated well into coaching clients through the tidying process. 
Her passion for helping others Spark Joy in their space stems from her own experiences as a mother of two, wife, and business owner. 
Shannon recognizes the challenges of a busy life and finding the time to tidy up. 
That's why she created the Virtual KonMari® Guide for you! You can move along at your own pace, within your own time, one small step at a time. 
Because Shannon believes with all of her heart – small steps lead to big changes!
"Shannon is an excellent and engaging presenter whose advice and guidance was both practical and empathetic. She demonstrated that she really cared and was with you every step of the way. I give her and her lessons the highest recommendation!"
"Shannon's energy and passion for organization was infectious and we have a sincere appreciation for not only the impact she had on us, but her ability to Spark Joy in so many lives around the Charlotte community. "
"Shannon hit the mark about the KonMari® method. She did a great job of explaining how getting your home in order can spill over into your work life in a positive way. Shannon's experience shone through as she spoke and her presentation was the perfect mix of practical instruction and humor."
Live "Office Hours" calls with Shannon
Do you have an important question? Are you stuck? Do you need a fresh perspective to make a decision?
For a small up-charge, schedule a call during office hours and she'll help you with your toughest questions and provide guidance to move you forward.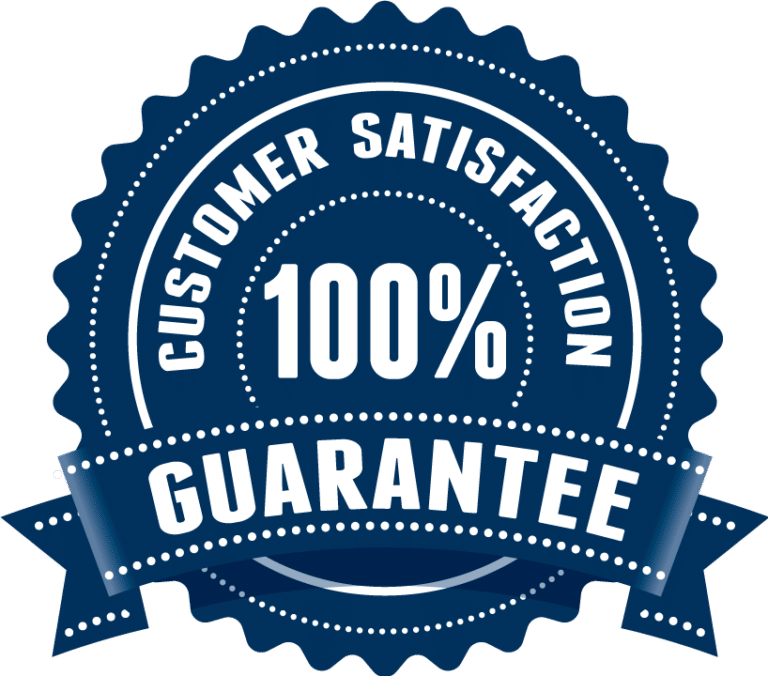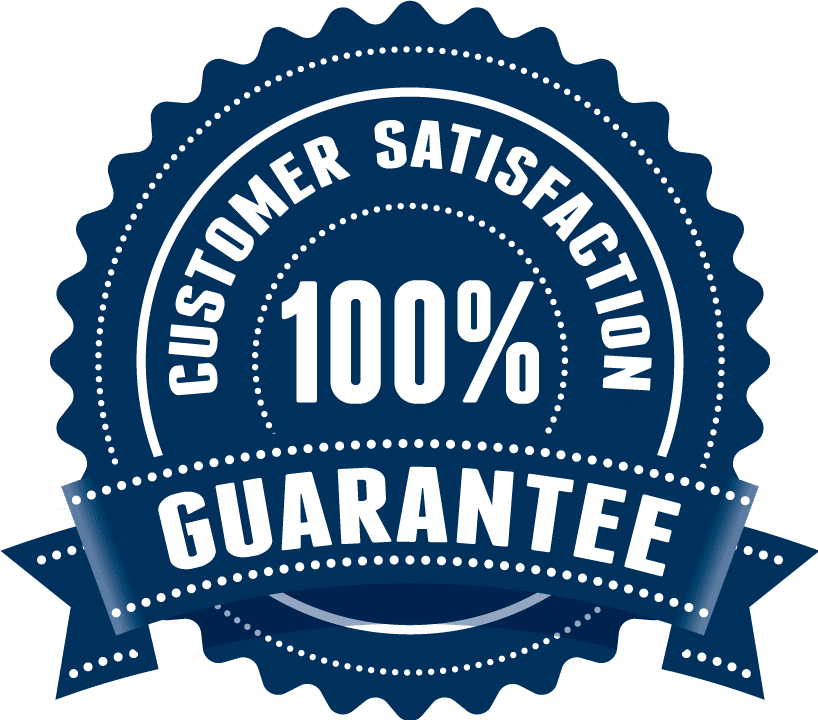 Rock-Solid 30 Day
100% Satisfaction Guarantee
Try the Virtual Guide for 30 days, 100% risk free.
If you don't benefit from the Virtual Guide, send me an email ([email protected]) before the 31st day, I'll check if you did any of the exercises, and I'll happily refund your payment. 
The best part is this:
You don't have to make up your mind about the Virtual KonMari® Guide. 
Enroll and decide if it's right for you within 30 days, after you take it for a test drive. 
Other professional organizers think I'm nuts for doing this because they say "What if people just take advantage of you?"
To that, I say, why would I penalize the 99% of people in the world who are good people because of a few bad eggs.
Frequently Asked Questions
The KonMari Method® is designed for you to complete your tidying journey first to evaluate what Sparks Joy® for you. Once you have completed your journey, you can then teach family members how to tidy up their space. As you are tidying up, the goal is for your loved ones to see the transformation taking place in your home and have an intrinsic motivation to Spark Joy® in their own space. 
If you get stuck at any point, reach out to me for help to get you moving. Schedule a 30 minute call to discuss pain points, ask questions, and get a fresh perspective. There are so many tips, strategies, questions, and content the Virtual Guide, you should be able to move through with clear, concise instruction. However, in the chance you get stuck, you can call me!
The Virtual Guide provides you small and actionable steps. Small steps allow you to schedule smaller blocks of time to complete tasks. Each category and subcategory is broken apart to allow you to tidy in chunks to fit your busy lifestyle. 
If you read this far, you owe it to yourself to honestly answer these questions:
What if just one idea…
helps you reduce stress and anxiety, leaving you with a sense of peace and calm in your life?
What if just one strategy…
helps you free up more time to spend with your family? What impact will that have on your relationships?
What if just one technique…
helps you finally get rid of clutter for good so you can truly live a life that Sparks Joy®?
You have nothing to lose and everything to gain. Don't miss your chance to finally start living a life that Sparks Joy®.